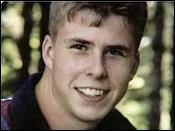 James Ellison was a 22-year-old college senior when he was murdered at the O'Connell Funeral Home on February 5, 2002. He had worked for the O'Connells since the fall of 1998, when he was a freshman at UW-River Falls. James was a caring and compassionate young man. We have learned even more about that side of his personality since his death... many of his friends and classmates related stories to us about their memories of James and each story was a gift that reinforced our own feelings about our oldest son. A few of his high school friends put together a memory book for us about a year after his death and is was comforting to read what they'd written in it: his friend Anne said, " The biggest characteristic I remember about James was his ability to believe in anyone. He had the inner strength to turn himself into a perpetual giving machine, and make people believe in themselves." "If you ever needed a friend, he was the first in line." "James was an incredible man, with heart, bravery, courage, and compassion. He loved everyone and everyone loved him. I am blessed for having known him."

Another friend, Andrea, wrote," James had one of the few real, authentic laughs I have ever heard. It was loud and spontaneous and infectious. It was hard not to laugh when James was around. He really taught me to enjoy the fun in life." "... I will never forget his kindness and thoughtfulness."

James always went the extra mile for people- he had a knack for comforting others. We received a sympathy card shortly after his death from a family who had lost their own teenage daughter in a car accident just a few weeks before, and they said James had been such a help to them during that difficult time. People have said to us that he would have been a wonderful funeral director...we say he already was! He took great pride in doing a good job... his roommate told us he would come home from work, and would say "I got that guy to look perfect!" He wanted to do his best for the grieving families. He had such an understanding heart for one so young.

James touched so many lives... we had no idea, until after his death, what an impact he had on almost everyone he met. To us he was just our James; we knew him, loved him, and thought he was pretty great, but felt that was probably parental bias toward one's child. However, to have others tell us some of the same things... that's a comfort and a blessing. The parents of one of his U of M classmates wrote to us after his death, telling how James would walk with their daughter to the car or bus stop after their evening class, to make sure she was safe. He was always looking out for the good of someone else. His classmates at the U of M presented us with a plaque with a poem and his picture, under which is this inscription: "Thank you for showing us the love of life. You will always be in our hearts."

Anyone who knew James will tell you he was special. We know his death touched many more people as well. When James was interning in Barron during the summer of 2000, he once asked me, "How do people deal with death if they don't know God?" I have thought of that question so often during the past four-plus years, and it never fails to comfort me to remember that our son James did know God, and he knew where he was going after his life on earth was finished. That's the most important thing of all.