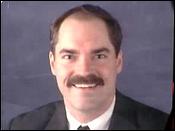 Daniel J. O'Connell
1962-2002
The following is the memorial that was passed out at Dan O'Connell's funeral. While little in print can be offered to better know Dan, we hope that the following gives a glimpse at the type of person Dan was.
Daniel "Dan" Joseph O'Connell, age 39 of Hudson, long-time community activist and funeral director of O'Connell Family Funeral Homes of Hudson and Baldwin, was killed Tuesday, February 5, 2002 in Hudson at the very business in which he devoted his life to others.
Dan was born February 23, 1962 in St. Paul, MN, the son of Thomas P. and Janet M. (Smisek) O'Connell. He attended elementary school at St. Patrick's in Hudson and Hudson Middle School. He graduated from Hudson High School in 1981.
While a senior in high school, Dan completed his Emergency Medical Technician (EMT) degree at 916 Vo-Tech in White Bear Lake, MN. Dan then began his long career in emergency medicine beginning with the Hudson ambulance service. Dan served as an EMT and most recently as Director of St. Croix EMS (Hudson Ambulance). During this time, Dan began his secondary schooling at the University of Wisconsin-River Falls to pursue his degree in Mortuary Science.
In 1982, Dan graduated with honors from the University of Minnesota Mortuary Science Section with a 4.0 grade point average.
In 1984, Dan began his career with Health One Transportation and Lakeview Hospital as a 911 Emergency Medical Technician – Paramedic.
In 1988, Dan retired from HealthSpan Ambulance service to concentrate his efforts in the family funeral business.
Dan's devotion to helping others brought him back to the ambulance service in 2001, when he worked casually for Lakeview Ambulance Service.
On October 22, 1988, he was united in marriage to his wife Jennie at St. Michael's Catholic Church in Stillwater, MN. This union was blessed with two children who held a special place in his heart.
Dan's commitment to the community went far beyond emergency medicine. Dan was an active member of the Hudson Chamber of Commerce where he served on various committees, such as the Ambassador Committee. He was also an active member of the Noon-Time International Rotary Club of Hudson and Knights of Columbus of St. Patrick's. Many knew Dan through his intensive involvement with the Pepper Festival of North Hudson. Dan took great pride in helping coordinate the well-renowned Italian food for the Pepper Festival. He took great pleasure in serving as past Pepper Fest King, the parades and pepper/spaghetti eating contests which came with this title. Dan was also an active member for the Hudson Booster Club, assisting with various projects with children of Hudson.
Dan played an active role in fundraising for the Boy Scouts of America and the YMCA of Hudson.
Dan's dedication to the families with the funeral service brought him to be a member of the National Funeral Directors Association and the Wisconsin Funeral Directors Association.
He was recognized with the Who's Who Among Students in American Colleges and Universities along with the Golden Key National Honor Society.
Many knew Dan through his efforts to console others through funeral service. Dan sacrificed his time to assure others received his fullest attention. Dan always put other's needs before his own. When the US experienced terrorism within it's own boundaries, Dan, and his brother Mike, coordinated the 9-11 Relief Spaghetti Dinner Fundraiser in efforts to help raise funds for those who gave up their lives on the New York Fire, Police, and Ambulance departments. Dan was very proud that he and his family fed over 2,200 people and raised over $25,000 in these efforts.
Dan played an instrumental role in the first and continuous national award (Pursuit of Excellence Award) which recognized the O'Connell Family Funeral Homes' commitment and involvement to the communities they served.
Although Dan cherished his work, his greatest love of life was his family and children, of whom he was so very proud. Dan never missed a school program, ball game, or dance recital. He spoke at school functions as a role of an EMT and healthcare provider, showing the kids the ambulance and the importance of health, nutrition, and safety.
Dan will always be missed dearly by family, friends, co-workers, and those he has helped over the years. There is no person that Dan ever met that was not a recipient of a warm smile and contagious laugh as well as always being offered a helping hand no matter what the situation.
Dan's final act was his strongest attribute and one that got him killed; helping people. While seeking to protect children from molestation and doing the job of someone else, Dan was brutally murdered.